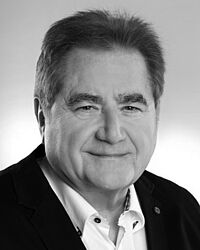 In 1986, the Institute acquired the Dr Hess Laboratory in Albestrasse 4 to supplement the work of the Bundesallee site. This laboratory site was extended and developed to create a water/environmental laboratory.
1983
The Institut Kirchhoff Berlin was founded in the Bundesallee in Berlin's Wilmersdorf district in 1983 by Dr Erhard Kirchhoff (born 1949).
In 1956, Ludwig Hess's daughter, Dr Hildegard Hess (1920–2014) took over management of the lab and successfully built on his work. Hildegard Hess had already begun working in her father's lab in 1944, and in 1954 was awarded "Appointment as publicly appointed professional consultant industrial chemist for the region of Berlin" certification, therefore becoming the first female industrial chemist in Berlin and indeed in Germany.