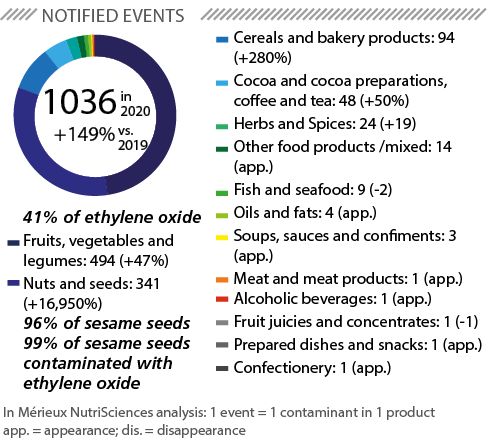 As an accredited independent laboratory, we offer food manufacturers a wide range of services for the determination and evaluation of pesticides to ensure compliance with regulations and quality standards.
Multi (residue) method

Multi Residue Method - MRM. Up to 400 analytes are analysed with only one preparation step using GC-MS/MS and LC-MS/MS. The method is chosen depending on the chemical properties of the pesticides, sensitivity and interferences.

Single (residue) method

Single Residue Method - SRM. The method is used when the analytes to be analysed cannot be detected with the multi-method: e.g.: when hydrolysis is necessary, for polar pesticides (glyphosate, ethephon, chlorate, perchlorate), for volatile substances (e.g. dithiocarbamates or fumigants with HS-GC-MS), for pesticides that are oxidised, for problems with sensitivity or for interferences.

Food Science Centre
Expert Services

Conformity and legal advice
Audits

Safety HUB

Our source analysis tool that monitors official bodies in 58 countries and dozens of online media sources around the world. An information system that keeps you informed of the latest safety incidents and alerts.
Matrices
Fruit and vegetables, cereals, pulses, nuts, seeds, meat/fish, dairy and milk, mixed food, spices, cocoa products, tea and herbs, egg products, fats and oils, feeds
Institutions - Regulations
EU, Regulation (EC) No. 396/2005

In the EU, Regulation (EC) No 396/2005 of the European Parliament and of the Council of 23 February 2005 on maximum residue levels of pesticides in or on food and feed of plant and animal origin and amending Council Directive 91/414/EEC (Text with EEA relevance) sets maximum residue levels. This Regulation also lays down provisions for the official control of pesticide residues in food of plant and animal origin which may arise from their use in plant protection. Maximum residue levels for pesticides set in accordance with this Regulation shall not apply to products covered by Annex I which are intended for export to third countries and which are treated prior to export where it is established by appropriate evidence that the third country of destination requires or agrees to that particular treatment in order to prevent the introduction of harmful organisms into its territory. This Regulation shall apply to products of plant and animal origin, or parts thereof, covered by Annex I, to be used as fresh, processed and/or composite food or feed, in or on which pesticide residues may be present.

EFSA, Framework Regulation (EC) No 1107/2009

Framework Regulation (EC) No 1107/2009, EFSA Plant protection products may not be placed on the market or used without prior authorisation. There is a dual system whereby EFSA evaluates the active substances used in plant protection products and Member States evaluate and authorise the products at national level.

SANTE, SANTE/11312/2021.Notification process

To ensure the quality of analytical results of pesticides in the EU, theguidance document on analytical quality control and method validation procedures for pesticide residue analysis in food and feed has been published. This guidance describes the requirements for method validation and analytical quality control to support the validity of data used for MRL compliance checks, enforcement actions or consumer exposure assessment to pesticides in the EU. The guidance document is updated every two years.